PROGRAMINO IDE - Installation
Run the setup file "programino-arduino-ide-setup.exe".

Select Setup Language
German or English and click "OK".



Read the License Agreement
If you agree, please select "I accept the agreement" and click "Next".




If you do not agree're exit the program with "Cancel".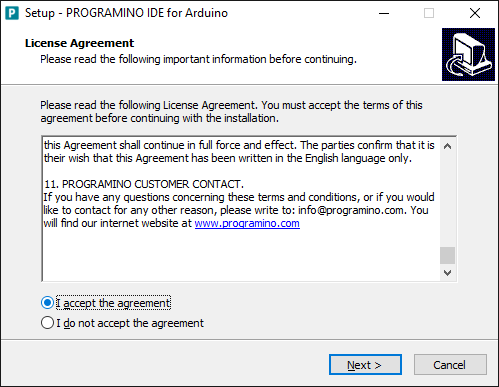 Select Destination Location
Choose the installation directory.

R

ecommend is

(C:\Program Files (x86)\PROGRAMINO).




Click "Next".
Select Start Menu Folder
The folder

Programino

is recommend.


Click "Next".
Select Additional Tasks
Create a desktop icon?




Click "Next".



Installation is complete!
Now you can run

Programino

IDE.

After start PROGRAMINO the Activation Process is starting
This form is no longer displayed after the purchase of a License-Key.



1.) User name (only by activation).
2.) Email address (only by activiation).
3.) License-Key (only by activation).
4.)
Buy a License-Key (
With this link you get to the purchase page).
5.) Choose this option if you have a license key.
6.) Choose if you want this option PROGRAMINO IDE free trial (14 days).
7.) Exit PROGRAMINO IDE.
8.) Contact and help link.